Shreshtha becomes National Topper of Sanskrit Olympiad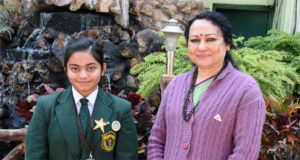 Bokaro: Shrestha Rupam Dwivedi a student of Class 6 of Delhi Public School Bokaro not only made her school but even the state of Jharkhand proud by becoming the National Topper in the Sanskrit Olympiad 2019.
Besides Dwivedi, the other students of DPS who brought laurels being declared the state toppers ranking 1 are Navya Sharia (Class 7), Prince Kumar (Class 8), Aditya (Class 9) and Varun Tandon (Class 10). The other students from the School who secured Rank 2 in the state are Rishima Chandra and Abhishek Roy Class 6, Tamanna Roy (Class 7) and Saurabh Raj (Class 10).
It's worth mentioning here the National topper will get a tablet phone besides, each State Toppers will be given Mp3 players along with a Medal, Certificate of Merit and a Tri-Lingual Dictionary.
Honoring the winners of the Sanskrit Olympiad, Dr. Hemlata S. Mohan expressed her immense happiness on accomplishing outstanding results not only in the state but even on National Level. She congratulated and hoped that students will continue their scroll of accomplishments in the future.
It's noteworthy that Sanskrit Olympiad is organized by Samskrita Bharati Educational Trust, Andhra Pradesh every year.