Sri Lanka serial blast:  over 120 killed, 300 injured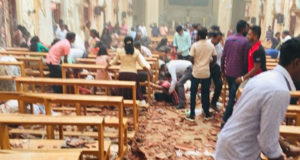 JNS: Over 120 people have been killed and 300 injured after serial bomb blasts occurred in several parts of Sri Lanka's capital Colombo on Sunday morning.
This blast took in 6 different places including three churches and three hotels in Colombo, sources said.
This blast took place at a time when a large number of people in the church were present for prayer. The church was attacked by a bomb blast one after another. The nature of explosion yet to get clear, police said.
High alert has been announced in the area. Death figures can increase in this blast. The injured were rushed to the hospital in this attack. Relief workers are involved in protecting the injured.
According to the media reports, the first explosions were reported at St Anthony's Church in Colombo, St Sebastian's Church at Katuwapitiya in the town of Negombo and in a church in the town of Batticaloa later the blasts hit the Cinnamon Grand Hotel, the Shangri-la and the Kingsbury.
External Affairs Minister Sushma Swaraj has expressed condolences and tweeted that she is constantly looking into the matter.