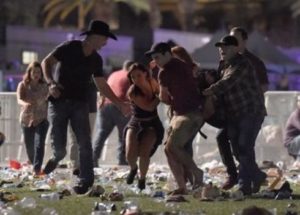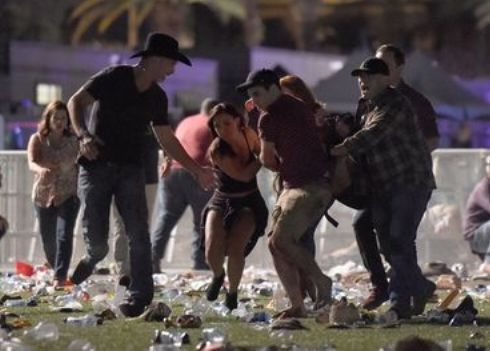 According to the police, Stephen Paddock (64) killed at least 59 people and injured over 527 when he fired on concert-goers from the vantage point of a 32nd-floor hotel room in Las Vegas. Armed with as many as 23 weapons, including semi-automatic rifles, Paddock opened fire at 10.08pm on Sunday (5.08am UK time) in a shooting spree that lasted between five and 10 minutes.
Later Paddock committed suicide by turning one of the guns on himself. With the motive still unknown, police were scouring Paddock's personal life for clues.
According to the media report, "Police found another 19 firearms, some explosives and thousands of rounds of ammunition at his home in Mesquite, along with some electronic devices that we are evaluating at this time".
List of mass shootings and terror attacks in the US
Aug. 1, 1966: Former US Marine Charles Joseph Whitman shot dead 16 people shooting from a tower at University of Texas in Austin. He was then shot dead by the police.
1978: Theodore John Kaczynski aka "The Unabomber" carried out a series of 'mail bomb attacks'. At least three people were killed and 23 injured. He was not charged with terrorism and is serving eight life sentences for murder. He was charged for carrying out at least 16 mail bomb attacks over a period of seventeen years. Due to his frequent attacks on universities and airlines, investigators dubbed him Unabomber.
July 18, 1984: A man named James Huberty, 41, shot at 21 people including children at a McDonald's restaurant in California's San Ysidro area. He was killed later by the police on location.
Aug. 20, 1986: Patrick Henry Sherrill shot dead 14 people in Edmund, Oklahoma and then killed himself. Sherrill worked as a part-time mail carrier and the victims were postal workers.
October 16, 1991: Attacker George Hennard, 35, crashed his pickup truck into the wall of a cafeteria in Killeen, Texas. Hennard shot dead 23 people before committing suicide.
February 26, 1993: A bomb explosion took place below New York city's 2 World Trade Centre building–also the subterranean level of Vista International Hotel public parking garage. At least six people were killed and over a thousand suffered mild to major injuries. The renovation bill of the Vista hotel back in 1994 was $65 million. The 1,200-pound bomb was placed in a truck in the parking garage and the explosion created a crater 200X100 ft going several stories deep.
April 19, 1995: Bomb explosion hit Oklahoma City's Alfred P Murrah Federal Building. At least 168 people were killed and nearly 700 injured. The man behind the attack was arrested in 1997 and executed four years later.
July 27, 1996: The city of Atlanta, Georgia suffered a bomb explosion. The incident occurred at Centennial Olympic Park during a concert at the time of Summer Olympics. One person was reportedly killed and another died of heart attack. A total of 111 people were reported injured. The convict was indicted for the Atlanta attacks and other bomb attacks. One of such incidents was an attack on an abortion clinic.
September 11, 2001: Al Qaeda terrorists hijacked several aircraft and crashed them into the twin towers of the World Trade Centre, the Pentagon and a point in Pennsylvania. In four hijackings, 2,977 people were killed. The final was reportedly a failed attack after passengers foiled hijackers' bid to crash the aircraft into the US Capitol building in Washington, DC. As many as 2,753 people were killed at the World Trade Center, 184 killed at Pentagon and another 40 in Shanksville Pennsylvania.
April 16, 2007: A 23-year-old student named Seung Hui Cho killed 32 people and then himself in a mass shooting incident at Virginia Tech University located in Blacksburg, Virginia.
November 5, 2009: A mass shooting incident occurred at a military processing center in Fort Hood, Texas. The perpetrator of the attack was Major Nidal Hassan. At least 13 people were killed and 32 injured. Hassan was not charged with terrorism but convicted for 13 counts of murder and 32 of attempted murder. He was awarded death sentence.
July 20, 2012: Assailant named James Holmes shot 12 people in a movie theater in Aurora, Colorado. Holmes was convicted of first-degree murder, 12 life sentences to be served consecutively and 3,318 years with parole.
Dec. 14, 2012: A 20-year-old attacker named Adam Lanza attacked Sandy Hook Elementary School in Newton, Connecticut. The attacker shot at 20 first-grade students and six adults. Lanza then killed himself.
April 15, 2013: Two bombs explode during the Boston Marathon near the finish line. Three people were killed and 264 wounded. Dzhokhar Tsarnaev was awarded death penalty in 2015.
June 18, 2015: The Emanuel African Methodist Episcopal Church in Charleston, South Carolina was attacked. Nine people were killed and one injured. The attack took place whilst a weekly Bible study was on. Dylann Roof, 21, who was arrested the next day confessed that his intention was to start racial clashes. In end of 2016, Roof was convicted on 33 counts of hate crime and given the death penalty.
July 16, 2015: Mass shooting incident occurs at a military recruitment center and a Navy reserve facility in Chattanooga, Tennessee. Four US Marine were killed along with a US Navy sailor. The man behind the attack–Abdulazeez–was blamed by then FBI Director James Comey for being motivated by foreign terrorist propaganda.
Oct. 1, 2015: A 26-year-old student at Umpqua Community College in Oregano shot a faculty member and eight students during a class. He later committed suicide after indulging in a shootout with the police.
December 2, 2015: Syed Rizwan Farook and Tashfeen Malik, married, jointly carried out a mass shooting. Both attackers fired indiscriminate shots at people in a holiday party at the Inland Regional Center in California's San Bernardino. At least 14 people were killed in the attack.
June 12, 2016: American citizen Omar Mateen who had pledged to the Islamic State killed 49 people while injuring several others in a horrific attack at a gay nightclub in Orlando. This was one of the most deadliest mass shooting in the US since 9/11.
CT : http://indianexpress.com/article/world/las-vegas-shooting-timeline-major-shootings-and-terrorist-attacks-in-us-islamic-state-4871456/