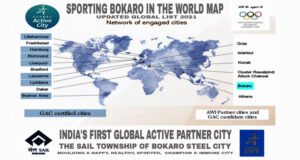 Ashis Sinha: Bokaro is engraved on the World Map of Global Active City (GAC) programme. A global map of the GAC Network, Switzerland for 2021 was released on Tuesday which is fully supported by the International Olympic Committee (IOC).
This information has been sent from Lausanne, Switzerland, the headquarters of Global Active City and International Olympic Committee authorities, informed Jaideep Sarkar, Lead Officer of the Global Active City Programme Bokaro.
Bokaro Steel City was recently honored with the 'Global Active City' (GAC) standard; the first city in India and second in Asia to get the tag. The first Turkish city to receive a prestigious standard in Asia is Karasiyaka.
Bokaro Steel City is linked with the Global Active City under the 'Nucleus Mission,' which has been protected and funded by the IOC. This nucleus project aims to reorient the community by linking Bokaro to the Olympics so that citizens of Bokaro can be prepared through a healthy and functional environment in different areas, he said.
Bokaro City is a planned city, established and maintained by Bokaro Steel Plant (BSL) now turning as 'Sports Hub'; got the place in the a worldwide list of 'Active Well-being Initiative Network's sponsored by the IOC Committee, he said.
The Active Wellbeing initiative is a unique forum for developing and encouraging the development of programmes and institutional model for international cooperation, opportunities, and implementation strategies.
The dream behind this is to build a society of active, healthy and happy people. "The aim is to place people's well-being at the core of national, regional, urban and organisational development strategies and action plan," added the lead Officer who is also an Executive Board member of Olympic fraternity.
We wish to make a strong collaboration of this global project in South Asian countries said Jaideep adding "Initiated in South Asia by India (Bokaro) in January 2020, the IOC supported programme has already launched in Pakistan in October 2020 (Rawalpindi cluster) and expected to propagate in Bangladesh (Kurigram) as well as in Nepal (Kirtipur) for which initial steps and meetings have already performed."
Notably, the GAC programme was developed and launched by Evaleo and TAFISA with the support of the International Olympic Committee.  In cooperation with the Bokaro Administrative, SAIL Bokaro unveiled its annual sports-and-cultural calendar, as well as launching many sports activities and avenues during SAIL's Foundation Day on 24 January. The director-in-charge Armrandu Prakash in his New Year's message declared the year 2021 as "Year of Sports & Wellness".