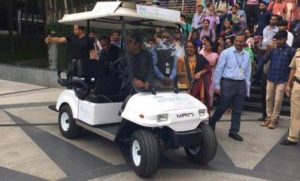 Infosys CEO Vishal Sikka arrived in a driverless automated golf cart at the company headquarters in Bengaluru ahead of a press conference on the company's Q1 results.
He posted a photo of himself on his Twitter handle. According to the post, the car was designed and built by the Infosys engineering service team at the company's Mysore campus.
The CEO has announced its first quarter earnings today posting a better-than-expected net profit of Rs. 3,483 crore for the quarter ended June 30, 2017, helped by key client wins. He said that strong execution helped Infosys come out with strong earnings in the June quarter. Despite pressure on several fronts, Infosys reported a margin of 24.1 per cent in June quarter, he said, adding that "really proud of our team's strong execution and great performance in Q1."
The autonomous vehicle is a symbol of cutting edge technology and is meant to train other employees on technologies like artificial intelligence, he said. Equipped with sensors, these driverless vehicles are capable of sensing its environment and navigating without human input. Advanced control systems help these vehicles identify navigation paths, as well as obstacles and road signage.
"It is our indigenously built autonomous golf cart. We are very proud of it. It was built entirely in our campus in Mysuru by our engineering services team and you know the future is about autonomy. The future is about automation Technology and AI technologies and every vehicle manufacturer is moving towards this," Sikka told the reporters.
We are strongly focusing on new technologies like artificial intelligence and next generation analytics, he said.