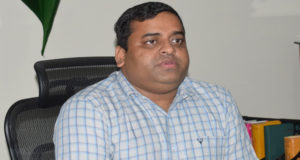 Ashis Sinha I Bokaro: Taking stiff action over the numbers of accidents occurred during the past few days at Bokaro Steel Plant (BSL), Deputy Commissioner Bokaro Mukesh Kumar issued a notice to the plant management seeking clarification regarding accidents.
In the past 15 days, a number of accidents reported inside the BSL plant include Nitrogen Gas leakage, Diesel tank fire, Electrocution of a worker and burn injuries to the workers at BSL plant. Under various sub-sections 30 and 32 of the Disaster Management Act 2005, Deputy Commissioner-cum-Chairman, District Disaster Management Authority, Mukesh Kumar passed an order seeking a response from the Chief Executive Officer (CEO) of the steel plant regarding the accidents.
He also sought answers at which level defaults are occurring. It has also been said in the order that the injured workers should be properly treated.
A number of accidents at BSL indicating that safety standards are not being taken care of in the plant, said Kumar.
"We have constituted a four-member committee for investigation. The committee includes Sub-Divisional Officer Chas, City DSP, Labour Superintendent and Circle Officer will examine various parameters of safety at BSL and submit the report at earliest to me," added Kumar.
The committee will also examine, what steps have been taken for implementing safety measure in other units of the plant.
Notably, on Sunday two workers sustained burn injuries in an accident at Bokaro Steel Plant (BSL), this was the fourth accident in past 15 days in the plant.
According to the sources, two employees of the Ferro Scrap Corporation Limited (FSNL) working under the BSL plant sustained burn injuries during the repairing of a diesel tank of a Crane. With the help of co-workers they were immediately rushed to Bokaro General Hospital (BGH) where their conditions are said to be stable, sources said.
The injured, identified as Rakesh Kumar Singh (Mechanic) and Gautam Chakraborty (Welder) were repairing the diesel tank of the automobile crane, suddenly (at around 12 pm) flare took place and both sustained burn injuries, informed BK Choudhary General Secretary of Jai Jharkhand Mazdoor Samaj.
Later the other members of JJMS rushed to BGH rushed to check on them.
On 15 May, two contract workers of M/s Shiva Electricals Company R K Rajak and Gahlot sustained burn injuries due to electrical flush near at Blast Furnace-4, BSL, were immediately rushed to BGH where their conditions are said to be stable.
BSL Chief of Communication Mani Kant Dhan said, the employees working under the Blast Furnace (Electrical Maintenance) department of BSL were on duty in the MCC Panel Room below Conveyor K-9 behind Blast Furnace no. 4 at the plant.
"Both contractual workmen sustained burn injuries due to a sudden electrical flash in a circuit breaker of a lighting system while attending complain of 'no light' in conveyor gallery of slag disposal system of BF-4," added Dhan.
Earlier on 11 May, three workers got fainted after they inhaled nitrogen gas, which leaked from a transformer at Hot Strip Mills (HMS) at BSL and later they rushed to the BGH. In that accident BSL's General Manager V Narayan, one BSL employee and one contract worker fainted and fell seriously ill after they inhaled nitrogen gas leaked from a transformer during its installation. Later, the plant management constituted a five members team to investigate the reason behind the incident.
On 6 May, a contract worker PK Singh (of plant traffic department) was electrocuted and later died on 11 May during treatment at BGH.