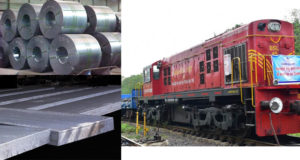 Ashis Sinha I Bokaro: Steel Authority of India Limited's (SAIL) Bokaro Steel Plant (BSL) continues to strive to meet the challenges posed by the COVID-19 lockdown in the global steel industry. Despite the temporary shortfall in production, the team is making good use of the opportunities available to BSL.
Demand for steel seems to be reviving in some way in the global market and BSL is ready to take advantage of this increase in demand of steel in the present time. In the same series, the first rake of 30 thousand tons of CC slabs (Concast) for supply from BSL to China was sent to Paradip port on Sunday, informed Mani Kant Dhan Chief of Communication BSL.
"The steel slab which we have exported to china is of Grade- JISG3101SS steel, having multiple uses includes the Construction industry, Auto sector and for White goods," added Dhan.
Around another 45000 tonne steel of different grades likely to be exported to various countries very soon, informed COC.
Explaining about CC steel slab an expert said, this is a facility for casting molten steel into semi-finished products (slabs) by continuously cooling, solidifying molten steel – which was melted and ingredients adjusted in a blast furnace, electric arc furnace, direct reduction furnace, etc. – and cutting them into given lengths.
"The casted semi-finished products are then transported to the next process at the rolling facility. The casted semi-finished products can be in various sizes. Final products from slabs include thin plates, thick plates and pipes," said the expert.
Dhan informed, "We have recently exported around 3000 tons of Hot Rolled Coil (HR Coil) to Nepal. HR coils were dispatched in early this May."
Now there is an abundance of opportunities available in the export market, to make the most of this opportunity available, the workers of BSL are focusing on the production of Quality Steel. In view of the tough competition in the steel market our efforts are also underway to reduce production costs, said Dhan.
"Apart from China, Vietnam, Nepal, Bangladesh, Sri Lanka and other countries also have good demand for BSL's Steel Products. Our officials are brainstorming on the strategy of production and dispatch," added Dhan.
"BSL is expected to supply other export orders very soon," said COC.
Meanwhile, the spread of Coronavirus and lockdowns around the globe has reversed the market trends as Indian Steelmakers started shipping steel to China— the world's largest steelmaking country.
Steel production for the domestic market was almost zero after the lockdown started in the country. Though, amidst the lockdown the steel companies started getting bulk orders from China, Korea, Japan, Middle East and Europe, said the expert.