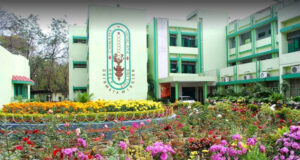 JNS: More than five hundred students, who have enrolled in the 11th class Chinmaya Vidyalaya in the academic session 2021-22 based on the entrance examination, virtually joined the Cinnmay family on Tuesday.
Principal Ashok Kumar Jha welcomed the students and stressed that everyone is welcome in the Chinmaya family worldwide. "I am proud that you are all students, who pass the entry exam amid thousands of pupils, full of genius, infinite potential, and divinity," he says.
Chinmaya Vidyalaya operates on 'Chinmaya Drishti,' which transforms the human person from ordinary human to divine. The school will do all it can to realise your potential.
"Arrangements for the 'on-line MS team' were established to provide you with the experience of live class conduct for your convenience during the coronavirus pandemic period. The exam will be scientifically conducted. You will be evaluated and all of your academic issues handled," Jha stated.
The Secretary of School, Mahesh Tripathi, remarked in his address to the programme that "even throughout this period, by leveraging all technology resources we have allowed no academic losses to the kids."
"For some things in your life you follow Shrimad Bhagwat Geeta, I have great confidence that the school teachers will elevate your academic achievements to a new level and you will be a complete change. You are going to be a complete change. Make your whole personality a successful and happy one with great human values."
The newly registered students asked all the key issues linked to the education system at the end of the programme and the Principal informed them that the Chinmaya Vidyalaya will be excellent in their future, personality and potential.