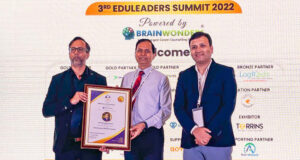 Bokaro: The glorious saga of DPS Bokaro continues as Principal A. S. Gangwar has once again been honoured as 'Principal of the Year' 2022 in the 3rd Eduleaders Summit organised in New Delhi this month.
This award has been given by Universal Mentors Association, a Delhi-based research organization working in various fields including education, and human resource. Gangwar received this honour in recognition of his exemplary contributions in the education sector and for providing high-quality learning opportunities for students.
Sandeep Gulati, founder of Universal Mentors Association said, a total of 1000 applicants from across the country participated in a survey conducted by the organization. Among these, 100 were included in the category of this award. Gangwar from DPS Bokaro received this prestigious award.
Dedicating this award to his students Gangwar said, "My students are my strength, who inspires me to be better than the best." He extended his gratitude to all the stakeholders for their support and trust and added that these recognitions are small mileposts that inspire us for greater accomplishments.
The Universal Mentors Association has been providing a platform for knowledge-based communities and knowledge exchange since 2019 to discuss the role and effectiveness of technology in the 21st century in the field of education.