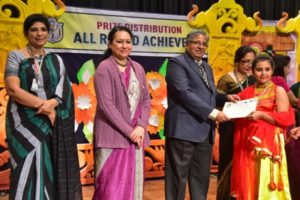 The Primary Wing of DPS Bokaro marked a special day to reward the academic brilliance of its students.
More than 587 students were awarded certificates and badges for exceptional performance (in the academic year 2016-17) at the Young Achievers Award function held at Primary Wing of DPS School at Sector 5 in Bokaro Steel City.
R. Krishnaswamy, ED (F&A), BSL was the Chief Guest on the occasion. Praising endeavors towards being one of the best schools of the country, he said that under the strong leadership, able guidance and mentorship of the Director and Principal of DPS Bokaro, Dr. Hemlata S. Mohan, the school has been achieving splendid success which is a matter of great pride in the State. He further congratulated the students and wished them all the best for their future.
Speaking on the occasion Dr. Hemlata congratulated the achiever's and praised the teachers for their contribution in nurturing the students for their achievement. She remarked that there is no alternative for hard work and therefore all must work hard to achieve success.
Pratima Sinha the Headmistress of the school said, 'DPS Bokaro is committed to the overall development of children'. "The All-Round Achievers Award is awarded to those students who are not only brilliant at academics but are also outstanding in Sports, Cultural and Social Activities as well", she added.