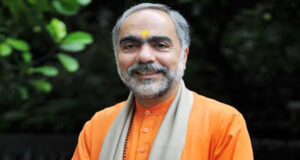 Bokaro: The epic story of Ramayana is going to be telecast online in Hindi from 13 to 21 April from 7.15 pm to 8.00 pm.
Under the aegis of Central Chinmaya Mission Trust, this programme will be telecasted to over 350 mission centers across the world by Chinmaya Mission on the auspicious occasion of Chaitra Navratri, informed Acharya Swamini Samayanand Saraswati.
The talk will be delivered by Swami Swaroopananda jee, the Head of Chinmaya Mission Worldwide. This will also be available on Social media on YouTube and Chinmaya Channel, she said.
"The story of Ramayana is based on the idols of spiritualism and moral values," added Acharya Swamini.
In the present scenario, which is full of stress and pain, the story directly connects us with our day-to-day life. Lord Rama, the divine character of Ramayana, was well known for his ethics and ideals. Not only Lord Rama, but the other characters also, like Goddess Sita, Bharat and Hanuman too played an immense role in their own way, she said.