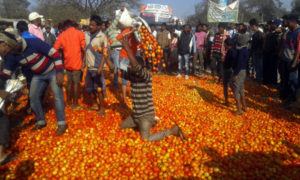 Tonnes of tomatoes were dumped and destroyed by farmers in Jharkhand to protest against sudden fall in prices.
The market price at present is approximately Rs 4-10 per kg, most of which is shared between middle men and vendors while a farmer receives only 50 paise per kg. The farmers also transport their own goods to avoid paying for transportation. Vinod Ojha, one of the farmers who dumped his stock said, "Most of us have to travel several kilometres on cycles, carrying more than a hundred kilograms of tomatoes and after reaching there we get even less than Rs 50 for a hundred kilos. Receiving so little after toiling on the farm for months is quite discouraging. As labourers we can earn at least Rs 200 per day."
Farmers claim that a defunct cold storage facility in Uldi and the government's inability to intervene is the reason to blame.
Nitin Madan Kulkarni, secretary of the agricultural department said, "The government is taking measures to set up processing plants and cold storages, but it will take time. The farmers usually send their stock for sale in vegetable markets in West Bengal but this time they have been unable to do so. There is no Minimum Support Price (MSP) for vegetables, so we cannot help the situation."
On being asked why the storage facility in Uldi is dysfunctional, he said, "There were around ten storage facilities started by the Welfare Department which are all dysfunctional. The situation is not in our hands." The situation that has been created near Bundu is similar to the scenario in Lohardaga district, where farmers have been forced to dump their produce a fortnight ago.