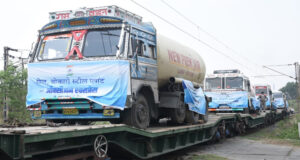 Ashis Sinha I JNS : The Indian Air Force (IAF) and the Indian Oil Corporation (IOC) have jointly taken initiatives to meet the need for empty medical oxygen tankers during the pandemic when several states are reeling under a shortage of medical oxygen due to a huge spurt of COVID-19 cases.
On this move, IAF is sending empty tankers from Baroda and from Pune to Bokaro for filling Liquid Medical Oxygen (LMO) from Bokaro Steel Plant (BSL), informed Mani Kant Dhan, Chief of Communication BSL.
"After filling the LMO, the tankers will be dispatched to its destination either by road or rail (it yet to be decided)," added Dhan.
India is struggling with the second wave of coronavirus infection, and hospitals in several states are reeling under a shortage of medical oxygen and beds in view of a rising number of COVID-19 cases.
Steel Authority of India Limited (SAIL) is playing a leading role in the fight against the pandemic. In order to meet the need of LMO in the country, SAIL is supplying LMO produced at its different steel plant's oxygen units located in various states on a daily basis.
From the beginning of April, this year BSL has supplied 2479 tonnes of liquid medical oxygen to Jharkhand, Uttar Pradesh, Bihar, West Bengal, Maharashtra and Madhya Pradesh and since August 2020, over 7200 tonnes of liquid medical oxygen have been supplied from BSL Bokaro Steel Plant, informed Dhan.
On this row, 4 tankers (65 tonnes) of LMO were dispatched to Lucknow through the "Oxygen Express" train on Sunday. Earlier on 23 April, we also dispatched 50 tonns of LMO (in three tankers) for Lucknow, he said.
"We at SAIL are ready to meet the crisis. To combat the severe shortage of medical oxygen, all units of SAIL are supplying LMO according to the demand, need as well as the availability of tankers presently," he said.
Notably, all units (plants) of SAIL have been advised to maximise LMO production and optimise shipping logistics in order to reduce oxygen tankers' turnaround time.
To ensure the timely supply of oxygen from one place to another, the Indian Railways has recently launched 'Oxygen Expresses'; these are special trains that will take oxygen cylinders according to the need.
For this train movement, a green corridor between Lucknow and Varanasi has been created. This train will cover a distance of 270 km in 4 hours 30 minutes. Later the tanker will move through the road.
We have reduced the industrial uses of liquid oxygen at the plant, supply of LMO will continue, he said.