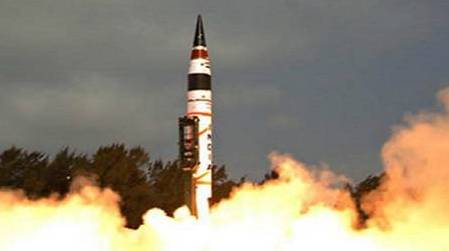 India Successfully Test-Fires Nuclear-Capable Agni-5 the Long-range ballistic missile from Odisha coast on Sunday. This is the sixth successful test of the missile and the second in its pre-induction configuration, official sources informed.
The Defence Research and Development Organisation (DRDO) said in a statement, "Agni-5 missile was successfully flight tested today at 09.45 am from Dr APJ Abdul Kalam Island; all the radars, electro-optical tracking stations and telemetry stations tracked the vehicle all through the course of the trajectory. All the mission objectives have been achieved,".
Agni-5 can carry nuclear warhead weighing 1.5 tonnes to a distance of over 5,000 km and is the longest missile in India's arsenal capable of reaching most parts of China. With a smaller payload, the range can go up much higher. The long-range ballistic missile has a strike range of 5,000 km.
According to the media reports, this missile has been programmed in such a way that after reaching the peak of its trajectory, it will turn towards the earth and continue its journey towards the intended target with an increased speed due to the attraction of earth's gravitational pull. The path has been precisely directed by the advanced on-board computer and inertial navigation system.
As the missile enters the earth's atmosphere, the atmospheric air rubbing the skin of the missile during the re-entry phase raises the temperature beyond 4,000 degrees Celsius, sources said. "However, the indigenously designed and developed carbon-carbon composite heat shield continues to burn sacrificially, protecting the payload and maintaining the inside temperature below 50 degrees Celsius," he added.