International Film Festival 'DRISHYAM 3' begins on colourful note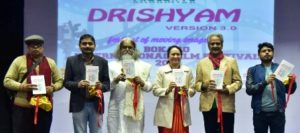 Amidst the bright sunshine, the third edition of Bokaro International Film Festival –'Drishyam 3' starts on a colourful note here in DPS, Bokaro, Ashwaghosh Hall on Friday.
Eminent Painter, Akhilesh, was the Chief Guest, while Senior Painter and filmmaker Shridhar Iyer along with well-known Film and Art critic Vinod Bhardwaj were the Guests of Honour during the inauguration ceremony. Director and Principal of DPS Bokaro Dr. Hemlata S. Mohan and Director of Film Festival, Abhishek Kashyap along with Principals of various schools graced the occasion.
Addressing the gathering Akhilesh talked about the inter-relation of Audio-Visual medium and quoting the example of Leonardo-da- Vinci's vanishing point he remarked that good films are only possible with the insightful vision.
Comparing Bollywood Cinema and Hollywood movies, he remarked that Bollywood movies are mostly associated with feelings while the latter has more realities in it. He praised the efforts of DPS, Bokaro in grooming the students both in Co-curricular activities and academics equally well.
Dr. Mohan, said that cinema possesses the power to stir ideas. They take on the important issues to review the diverse aspects available in art & culture. She opined that Education is no longer limited to books, cinema is just another form that showcases reality and retells these realities for us to study and progress.
During the occasion a book titled 'Unlock the Child Inside the Child'- A lucid guide to parenting and more' authored by Dr. Mohan was unveiled by the Chief Guest and other dignitaries present. Talking about her book, Dr. Mohan said it is a guide to effective parenting. It is believed that every child is unique and has immense potential that needs to be unleashed. This book was also launched at the World Book Fair on 10 January 2018.
'Hamara Bharat' a magazine edited by Abhishek Kashyap was also unveiled during the occasion. Keeping in mind, the deep link of cinema with other arts, for the first time the festival also witnessed a workshop on visual arts namely 'KALA-SAMVAD' for teachers. Akhilesh delivered a lecture on 'Art Education' to the art teachers of DPS Bokaro and other schools of Bokaro on enhancing creativity and developing art aesthetics among students.
Screening of video installation 'Blue Bell Gray' also took place. Discussion on the topic of 'Cinema in Art' by Shridhar Iyer was also one of the highlights of the day.  Iyer opined the fact that in the present scenario visual arts, video installation has become a powerful medium for artists to express their views. Students from various schools from across the city including DPS, Chas, Chinmaya Vidyalaya, Adarsh Vidya Mandir, Guru Gobind Singh Public School, MGM Higher Secondary School, A.R.S. Public School BSL LH, Crescent Public School, Holy Cross School, Rukmini Devi Public School Phusro, Mithila Academy Public School, BISSS – III, BISSS- VIII B and others participated in the festival.