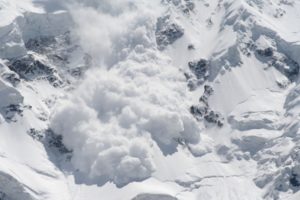 Three soldiers trapped in an avalanche in Jammu and Kashmir's Batalik were found dead this morning. The three bravehearts were from Jharkhand.
There were five soldiers at the post when multiple avalanches triggered by heavy snowfall hit an army post in Batalik sector of the Jammu and Kashmir's Ladakh district yesterday. Two of the five soldiers were rescued earlier. The Kashmir Valley witnessed incessant rain and untimely snowfall in the plains yesterday, leading to a flood-like situation. The Army once again came to the rescue of people affected in the low-lying areas inundated in the valley.
According to the official sources, three soldiers of Indian Army, all from Jharkhand, lost their lives after multiple avalanches triggered by heavy snowfall hit an army post in Batalic Sector of Laddakh in Jammu and Kashmir on Thursday. The three jawans have been identified as Havildar Prabhu Sahay Tirkey, Lance Naik Bihari Marandi and Sepoy Kuldeep Lakra. Tirkey, 43, was from Semra village and Larka, 22, was from Bishakha Tanga village of Ranchi while 34-year old Marandi was from Ramnathpur of Pakur district.
"Following the multiple avalanches that occurred in the area on Thursday, two out of the five soldiers who were there in the post, were rescued while all the other three hailing from Jharkhand could not be saved. They died due to the injuries suffered in the incident", sources added.
Meanwhile, expressing condolences to the family members of the martyred families, Chief Minister Raghubar Das has announced a financial assistance of Rs two lakh to each of the martyred families.
"Condolences to the brave hearts, all three sons of the soil sacrificed their lives while protecting the country. Their sacrifices will not go in vain and the whole population of Jharkhand is with the martyred families. All possible help will be provided to them," stated Das in his message.
Former Chief Minister Arjun Munda, expressing condolences to the martyred soldiers, said that may god give them enough courage to sustain grief in this hour of need.