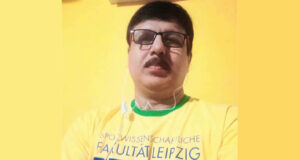 Ashis Sinha I Ranchi: Jaideep Sarkar, International Volleyball Instructor, nominated as a member of the Advisory Board of National Martial Arts Academy (NMAA). He has been appointed for the year 2019-2023, informed BK Bharat chairman NMAA.
Notably, NMAA (Member of World Martial Arts Union, South Korea) is a constituent Academy wing of the National Martial Arts Committee-India an Apex organization of the World Martial Arts Games Committee of India.
Many eminent sports fraternity congratulated Jaideep for this important responsibility.
Jaideep is the Executive Board Member of the Indian Pierre de Coubertin Association (IPCA) and National Council of Sports Science and Physical Education (NCSPE). He is also a City Officer (Bokaro) of India's first IOC supported Global Active Partner and an Asian Silver Medal (AVC) recipient in Volleyball.
He has a professional experience of more than 25 years in the areas of Sports Development, Sports Science, advocacy and coaching. He has been actively interacting as a sports resource person in several esteemed global sports promotion events including ITK Leipzig University project, UN mission of International Day Sport for Development and Peace (IDSDP), UNESCO-FISU proclaimed International Day of University Sports, International Sports Press Association's (AIPS) World Sports Journalist's Day and others.
He is an international sports expert with elite credentials, who masterminded India into the mainstream of IOC's Olympism in action platform by aligning his native steel township of Bokaro Steel City in Jharkhand as the first partner city in India in the IOC supported Global Active City (GAC) programme.
As an Asian Silver Medal (AVC) winner and International coach in a volleyball game with Post Graduation in Sports Management from Alagappa University, Tamilnadu, Jaideep posses' solidarity accreditation from IOC and International Volleyball Federation (FIVB) Level-2 in coaching, besides a qualified (NIS) from Sports Authority of India and selected for advance coaches course from Leipzig University, Germany.
Jaideep was also assigned as a Project Officer (Tech./Infra.) in Commonwealth Games 2010 and as Administrator in National Games 2011. Presently he is working with the steel giant Steel Authority of India Limited (SAIL) as a Senior Coach in Sports Department at Bokaro Steel Plant in Jharkhand.
He has a passion for making sports a global affair for human development through the values of "Olympism" and "Olympic Movement."