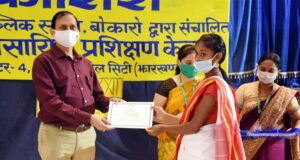 Bokaro: Women of the vocational center Koshish who qualified their certification course and received the certificates in a felicitation programme ogranised in the premises of DPS Bokaro today maintaining the norms of social distancing. The felicitation ceremony was chaired by A. S. Gangwar, Principal, DPS Bokaro.
Koshish, is a vocational center for women-run under the aegis of DPS Bokaro that ensures the financial stability of women of the marginalized sections of the society by offering them an opportunity to master the skills of knitting, stitching, and soft toy making through certified courses.
Speaking on the occasion A. S. Gangwar said that Koshish Vocational Center was initiated in 2006 with the aim to enable mothers of students of Deepansh and other women, to learn skills that would help them earn their livelihood.
"In a short span of time, the vocational centre has done immensely in the field of skill development and the mission of 'Self-reliant India' to enhance the quality of living of the marginalized section of society."
Gangwar added that the Training Centre has a commendable number of sewing machines and professional staff to teach the skills of designing, tailoring and embroidery including more.