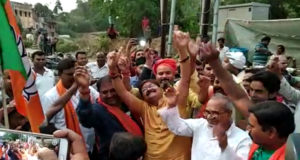 JSN: Modi wave gave a sweeping victory to the BJP in Dhanbad and NDA in Giridih Lok Sabha constituencies. Giving a clean sweep BJP's sitting MP, Dhanbad PN Singh won the poll battle with a margin of over 3,17,691 lakhs votes by defeating Congress candidate Kriti Azad.
There were 20 candidates in the poll fray and Singh got 5,67,759 votes while Azad got 2,50,068 votes, informed district electoral official of the constituency.
While NDA candidate Chandra Prakash Choudhary from AJSU defeated Jharkhand Mukti Morcha candidate Jagarnath Mahato by 2,48,347 votes. There were 15 candidates in the poll fray and Choudhary got 6,48,277 votes while Jagarnath Mahato 3,99,930 votes, informed KN Jha DC Bokaro cum electoral officer Giridih Constituency.
After accepting the greeting Singh said people of Dhanbad constituency loves him. "They are satisfied with my work and progress of the constituency. People chose me as MLA in 1995 than 2000, 2005; later as MP in 2009 in 2014 and again in 2019. Now keeping the promises which I was made with my people during the campaign would be in my priorities," he said.
'I won the poll battle but all the credits goes to Narendra Modi. Nobody has expected quite such an emphatic victory of BJP across the country. Inevitably people have given Modi a free hand again to do whatever he wants for holistic development at a national level," Singh added.
There is one more thing, "People want a strong Prime Minister to represent our country so they voted for BJP. I hope in this new tenure Modi led government will definitely bring a radical change across the country and it will fetch prosperity with happiness", Singh added.
On his massive victory, Chandra Prakash Choudhary said, first of all, I want to give thanks to all the residents of Giridih Constituency, who extended their blessings. "Though, I won the election but this is the victory of the people; people are happy with Modi's work and given a massive mandate to the NDA," added Choudhary.