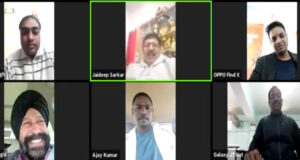 Ashis Sinha I Bokaro: Mongia Steel will provide all possible support for the development of volleyball games in Jharkhand. In association with Jharkhand State Volleyball Association (JSVA), we will support, cooperate and sponsor for the ground-level development of the volleyball games in the state, said Gunwant Singh Mongia, CEO of M/s Mongia Steels Ltd. He was speaking on a webinar as a Chief Guest.
Commemorating the 126 birth anniversary (9 February) of the volleyball game, a webinar (video-conference) was arrogance in which all the district units of JSVA have participated. The anniversary was organised with colossal success and enthusiasm all over the world, including India and Jharkhand.
Jaideep Sarkar, International Volleyball Instructor and Secretary Jharkhand State Volleyball Association said, Volleyball game was invented by Sir William George Morgan on 9 February 1895 at YMCA, Holyoke in USA. Earlier the game was termed as "Mintonette" which later on converted as "Volleyball" due to its nature of play to Volley the ball over the net, said Jaideep.
While addressing the people, Mongia has wholeheartedly spoken that, he wishes to support and sponsor Volleyball to blossom in Jharkhand as well as for JSVA, informed Jaideep.
Apart from the video conferences, tournaments were also organised in Ranchi, Hazaribag, Garhwa, Dhanbad, Jamtara, Bokaro, and Ramgarh on this eve.
"We are at work, competitions and other activities for the ground-level development of volleyball will soon organised by JSVA," he added.
Meanwhile, Bokaro Steel Plant (BSL) is also mulling to establish a Volleyball Day Boarding Center in its periphery. Notably, Bokaro Steel City has completed one year of getting the tag of 'Global Active Partner City' and BSL celebrating this year as 'Sports Year' .
Last year on 19 January, Bokaro was honored with the 'Global Active Partner City' (GAC) standard and became the first city in India and the second in Asia to get this prestigious standard. After Karasiyaka in Turkey (the first city), Bokaro is the second city in Asia to get the tag.
BSL Director-in-charge Amrandu Prakash said a few days earlier that we are on the move to give a strong boost to Sports in and around the city includes periphery and command areas of BSL, especially during 2021.
Following the Coronavirus protocol and maintaining social distancing norms, several sports events, including Marathon, Cycle Race, Online Chess Competition, would be organised very shortly.
He appealed to every resident of the city to come forward and participate in all sports events for the well being.
Working in this row, BSL is commencing many sports facilities in the township. BSL is constructing two ultra-modern badminton courts at the Sports Complex in Sector-4.
BSL is also transferring 20-acres of land to Jharkhand State Cricket Association (JSCA) at Balidih for the erection of an international cricket stadium.
After getting the principal approval from Union Steel Ministry and Steel Authority of India Limited, BSL is in the process of transferring a 20-acre-plot near Visthapit College at Balidih in Bokaro to JSCA, which falls under its command area, informed an official.