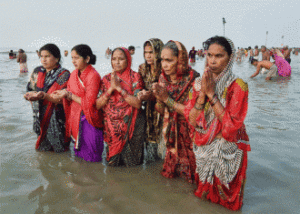 Over a million pilgrims from across India and abroad took holy dip in the river Ganges on Saturday braving the icy cold water and chilly winds, at the annual Ganga Sagar Fair here on Makar Sankranti.
"Around 10-12 lakh pilgrims have bathed so far since the morning. More people are coming for the holy dip," West Bengal Sundarban Development Minister Manturam Pakhira told.
"We are expecting a total turnout of over 15 lakhs," said Panchayat and Public Health Engineering Minister Subrata Mukherjee.
About 150 km from Kolkata in South 24 Parganas district, this island is considered auspicious by the Hindus, who gather here at this time of the year to take a holy dip at the confluence of the Ganges and the Bay of Bengal and pray by offering coconut at the Kapil Muni temple.
The Ganga Sagar Mela is considered as the second largest assembly of people after the quadrennial Kumbha Mela (fair). The devout believe that a dip in the sacred water at this time washes off sins of a lifetime.
According to the local administration and organisers, this time around the turnout is relatively higher.
"The attendance is relatively higher this year as a lot of fairs that are otherwise arranged at this time of the year could not be properly organised amid the cash crisis.
"The administration has taken necessary measures to tackle the large crowd," Mukherjee said.
"We have built 20,000 stationary toilets with proper markings at the Mela premises, 5,000 more than 2016 and arranged one volunteer for every 10 toilets to ensure the pilgrims use them properly," he added.
On the second coldest day of the season in West Bengal, the huge number of pilgrims, both young and the old and representing all sections of the society, gathered at the riverbank of Sagar Island to take the holy dip. The enthusiasm appeared infectious.
"We come here every year with all the family members. Who wants to let go of the chance to witness such a spectacle," said veteran Anup Maiti of Nadia district, who came to bathe here with three generations of his family.
Additional security measures have been taken by the district administration to avoid any untoward incident.
"The situation in the fair is absolutely smooth. We have installed almost 200 CCTV cameras at the 'mela-ground' and increased the number of life-saving vessels in the river.
"People are also deployed to remove the flowers, food packets and plastic waste from the premises to keep the fair clean," said an official.