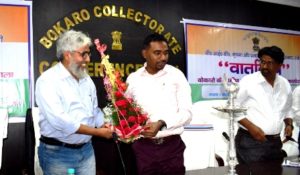 A rural media workshop 'Vartalap' was organised by Press Information Bureau (PIB) at Bokaro Samaharnalaya on Thursday.
With lighting, the lamp workshop was inaugurated by Bokaro DC MK Baranawal. Speaking on the occasion, DC said journalists serve as a vital link in the chain of information and play a significant role in the process of establishing a communication process between the administration and the mass.
Barnawal urged media persons to work with utmost sincerity and dedication without any biased approach.
The Assistant Director PIB Ranchi Merazuddin Khan said this workshop is part of PIB's media outreach strategy with an aim of establishing direct contact with working journalists, especially in the rural areas.
"Our objective is to acquaint district level journalists with the PIB offices in the state so that they can easily procure Union Government-related news from the regional and branch offices of PIB," he added.
We are also aiming to improve the quality of journalism, both in print as well as electronic media. The media should do the task of taking Central government schemes to the mass, said Khan.
"Such workshop will also help PIB in building up a database of the journalists working at district and sub-district levels and PIB releases can be sent directly to them," he added.
During the workshop, many experts and resource persons delivered their speeches on various topics related to the contemporary rural media scenario catering to the professional requirements of rural journalists.
Over 70 journalists from different media including print as well as electronic participated in the workshop.