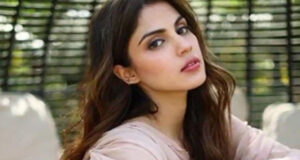 JNS: Bombay High Court granted bail to Rhea Chakraborty in an alleged drugs case related to the death of Sushant Singh Rajput; released from Byculla jail on Wednesday.
Rhea was granted bail on a personal bond of Rs 1 lakh while the court rejected the plea of her brother Showik and alleged drug peddler Abdel Basit Parihar.
Justice Sarang V Kotwal, passing the bail order, said, "(Rhea) is not part of the drug dealers' chain." She has not sent anyone else the drugs allegedly procured by her to receive monetary or other benefits." "Because she has no criminal record, there are fair reasons to assume that she is not likely to commit any crime while on bail, "the judge said."
Justice Kotwal also disagreed with the claim of the NCB that celebrities and role models should be unfairly punished so that the young generation can set an example and are not motivated to commit such crimes. "The judge said," I am not in agreement. Before the constitution, everybody is equal.'
The court acknowledged that, in dismissing Showik 's plea, the claimant not only knew several drug traffickers but was also in contact with them and was actually dealing with them. "The investigation agency has ample material at this point to demonstrate that he (Showik) is part of a network of drug traffickers involved in illegal drug trafficking," the order said.
On September 8, Rhea, who was allegedly in a relationship with Sushant Singh Rajput, was arrested by the NCB on charges of being part of a drug trade union operating in Mumbai. On September 4, her brother, Showik, was arrested. Her bail plea was dismissed by the special court, after which she filed an appeal before the High Court of Bombay. Rhea has been in Byculla's gaol cell ever since her conviction. Yesterday, another tribunal extended their judicial detention until 20 October.