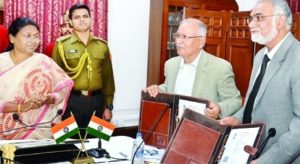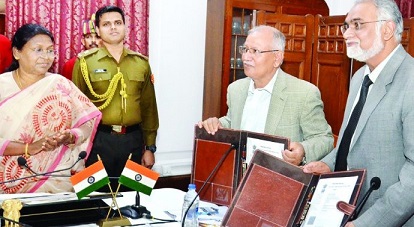 Ranchi University inked a memorandum of understanding (MoU) with Indira Gandhi Rastriya Kala Kendra, New Delhi in a bid to develop tribal culture. On the occasion of signing MoU Jharkhand Governor Draupadi Murmu said that the tribal culture, civilization and languages of Jharkhand need to be protected and developed.
This MoU signing is an important step towards this. The tribal culture of the state is very rich and needs to be developed. She said that documentary should be made on the lives of tribal people, their culture, tradition, civilization and behavior. She laid stress on research on tribal languages.
Member Secretary of Indira Gandhi Rastriya Kalakendra, New Delhi Dr. Sachidanand Joshi and RU VC Dr. Ramesh Pandey signed the MoU. It will be the 6th center in the nation.
Principal Sec to the Governor S. K. Satpathi, Educational Advisor of the Governor Anand Bhushan, Padmashree Ashok Bhagat, Mukund Nayak, Pro. VC Kamini Kumar, Principal of Ranchi Women College Manju Sinha and other were present on this occasion.