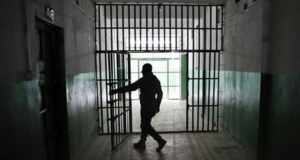 # 21 children of 'juvenile home' tested COVID-19 positive
Ashis Sinha I Bokaro: In view of the increasing case of COVID-19 among prisoners in the district, a temporary prison COVID is planned in Bokaro.
COVID jail is being established near ITI More Chas, so that prisoners in case they found positive of Coronavirus infection can be kept in that jail with full SOP, said Rajesh Kumar Singh Deputy Commissioner Bokaro.
"The building has been identified for this purpose; prisoners will be kept there in COVID ward by their category," added DC.
"Around 21 children of 'juvenile home' were tested COVID-19 positive. The administration is making separate arrangements for them. We have identified a hospital to keep those children there. They will be shifted tomorrow where SOP has been taken care of," added Singh.
Following the consistent rise in coronavirus positives cases across the district, we are at work to increase ICU wards and the number of ventilators. Elderly people with such infection will be kept there, said DC. Presently, only 15 wards are functioning at COVID Hospital at Bokaro General Hospital (BGH), he said.
We have also developed paid isolation and COVID care centers in PPP model. Such isolation facilities have been provided at Hans Residency, Neelkamal Hotel and Zika Resort.
Only 'A' symptomatic patients can stay there, by paying the charges as per their convenience, they will be kept with full SOP, said Singh.
"Oxy pulse machines will also be available there so that the amount of oxygen carried in the body and pulse rate can be measured periodically," he added.
We have also planned to run two COVID buses to carry/transport the positive coronavirus patients across the district. The buses will be equipped with ambulance-like facilitates so that there would be no problem in tackling any emergencies, said DC.
All government public buildings related to the public interest will be sanitised on a regular basis. A directive has been issued to CCL, Bokaro Steel Plant (BSL), ONGC and Chas Municipal Corporation (CMC) to carry out the sanitisation work on a regular basis, said DC.
Bokaro saw a significant spurt in COVID-19 positive cases during the past few weeks. The total number of active cases rushed to 394 while the death toll rushed to 10 in the district. Though, 571 people have been recovered and discharged from hospital so far after they were tested negative for the Sars-Cov-2 virus for the second time and sent back to their home after recovering fully, said AK Pathak Civil Surgeon Bokaro.
We are making every effort to curb the spread of the global pandemic COVID-19, said Civil Surgeon.