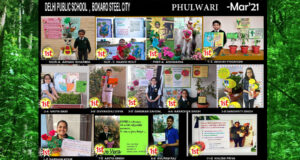 Bokaro: To emphasize the importance of conserving nature and to inculcate a feeling of empathy towards mother earth; – 'Phulwari' with the theme- 'Nurturing Nature for the Future'- a competition organised at DPS Bokaro for the students of Nursery to class XII.
Over thousands of students participated in the competition. The students nurtured plants at home and they exhibited the photographs by sharing it with the school online platform. The plants included the collection of diverse flora nurtured by the students in diversified categories like- Seasonal Flowers, Medicinal Plants, Vegetables, Fruits, Decorative Plants, Non-flowering and Medicinal Plants. It also included poems and slogans written on the posters.
Principal DPS Bokaro, A. S. Gangwar expressed happiness on the active participation of students in nurturing the plants and showcasing their concern and belongingness towards the environment. He said that the idea behind putting the online competition was to sensitize the students and parents towards their responsibility for the environment and sustainable development.
As per the results declared today the first positions holders of the competition are:
In Class Nursery, Aarnav Sharma and Saanvi Rout Section A and C respectively scored the first position. In Prep Aishwarya took the top spot. In Class-I, Akshat Priyadarshi of Section E secured the First position. In Class II, Navya Baid of Section A got the First spot. In Class III, Divyanshu Divya and Sanskar Sahgal both of Section B bagged the first position. In Class IV, Aaradhya Singh of Section A got first place. Sanskriti Singh of class V-D bagged the First position.
In the senior category from classes VI to XII- Harnain Kaur of VI-B, Aavya Singh of class VII/E, Anupam Raj of VIII/D while Khushi Priya of class of XI-G bagged the first position in their respective classes.wasbe identical or equivalent toMore (Definitions, Synonyms, Translation)