DPS Chas organises educational webinar on 'Mental Wellness and positive emotions'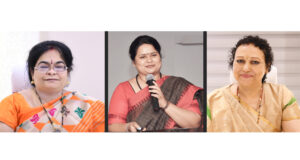 JNS I Bokaro: With an aim to Empower Educators, DPS Chas in association with Umeed Counselling and Consulting Services organised a webinar on the topic 'Mental wellness and positive emotions' on the virtual platform today.
The resource person of the webinar was Salony Priya, a renowned counselling psychologist working in the area of education management, human development and training, student and teacher empowerment, parental guidance and comprehensive counselling.
Speaking on the occasion, Salony Priya stressed on Mental Wellness, creating positive emotions by choice, steps for being productive to handle new normal in the classroom and Adolescent Behaviour. She shared tips and insights on positive teaching and the spirit to face the 'Pandemic Blues' and spoke about the role of 'Happy Hormones' for the child's overall well-being. She pointed out that the new normal demands a new 'you' wherein one needs to develop new habits, new skills and discover new techniques. She added that we need to confront our fears, make thoughtful choices and accept the change and thus increase the HQ – The Happiness Quotient.
It is worth mentioning here that she is the founder Director of Umeed Counselling and Consulting Services, a multi-speciality psychology institution based in Kolkata where she empowers, enables and energizes the populace with therapies, workshops and individualized sessions. She is also a trustee of Umeed Foundation, an organization that works for underprivileged children in the field of mental health. Counselling, mentoring and coaching are the key areas of her work for the last 24 years.
With complete enthusiasm, the entire teaching staff participated in the webinar and posed relevant questions on present-day teaching and its challenges.
Dr. Hemlata S Mohan, Chief Mentor, DPS Chas mentioned that learning is a lifelong process. The nature around us imparts the facilities and fragrance that seeps deep into our being and we should gladly adapt and adopt to the changes so that we can present a better self in front of the growing children. The existing smile that spreads onto our face in difficult times adds a ray of hope and enthusiasm in children thus making them an aspirant of improved goals and broader vision. The child thus learns and trains themselves how to push forward towards a successful and satisfying life. Having a vision so positive opens ways for children to accomplish more and head forward enthusiastically.  She also added that the Centre for Cultural Resources and Training provides multiple resources that can help in strengthening the co-scholastic areas and boost learning.
Principal, P Shailaja Jayakumar thanked all the participant teachers for such encouraging participation and motivated everyone to keep the zeal high. She said that the identity of a teacher etches a mark into the minds of the children, thus, they become their role model.