Gangwar gets Global Principal Award-2021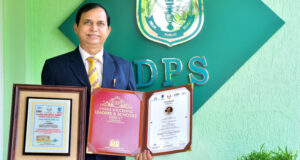 JNS I Bokaro: Acknowledging the outstanding contribution in school leadership and empowerment, Haryana, Gurgaon based Centre of Educational Development Foundation (CEDF) conferred the prominent title of Global Principal Award 2021 to A.S. Gangwar, Principal DPS Bokaro.
The Global Principal Award recognizes an outstanding school leader who has a national impact in the field of education and has dedicated his professional life to the development of school and holistic growth of children. Gangwar received this global recognition for his tireless strive in being a successful eduleader with fortitude and firmness that has helped in empowering the youth.
The CED Foundation, an all India forum of Eduleaders conferred this award in the Global Education Summit on Skill & Vocational Education on 28 August 2021 in Gurgaon. It is an educational forum framed by academic and technical experts across the country which endeavours to empower School Educators and all stakeholders by addressing their needs and concerns for enrichment of schools that seek to empower and support the teaching fraternity to enrich the school environment and redefine the national guidelines for a better future of our empowered children.
On receiving this prestigious award, A. S. Gangwar, Principal, DPS Bokaro remarked, "For the last three decades DPS Bokaro has been offering a holistic blend of academics with a pleasurable array of cultural and literary activities well complemented with sports that give every child an opportunity for self-exploration."
He expressed his heartfelt gratitude to all the stakeholders which include the dedicated students, committed staff and supportive parents who have contributed to achieve this commendable feat.