MNVA— Ultra Modern Sports Academy kicks off in Jharkhand
By Ashis Sinha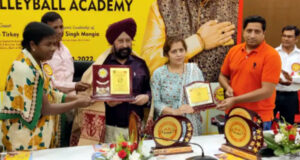 JNS: A unique and one-of-a-kind Sports Centre of the country, Mongia National Volleyball Academy (MNVA) established in the Giridih district of Jharkhand, was inaugurated with significant enthusiasm. Spread over three acres of land at Jamwad in Giridih, MNVA will develop volleyball game on Centralised and Decentralised-Distributed methodology.
To begin with, MNVA will focus activities from our core state of Jharkhand and, thereon, gradually move to other parts of the country, said the dynamic Chief of MNVA & Chairman Mongia Steel Limited Dr. Gunwant Singh Mongia.
The uniqueness of MNVA lies in the fact that the functioning of the academy is based on Centralised as well as Decentralised-Distributed systems.
In the centralised system, the talented cadets were screened for further grooming in one or several centres, whereas in MNVA's additional Decentralised-distributed system will encourage different potential pockets, units, clubs including others to flourish in Volleyball from where the talented cadets will be picked for MNVA, informed Jaideep Sarkar, Volleyball International & Secretary of MNVA.
"These potential units will be facilitated with volleyball equipment, coaching programmes, exposure, knowledge packages and unit representatives with local resource persons in Volleyball will be prioritized," Dr. Gunwant Singh added.
MNVA will be established as a sports development center of India under construction at Giridih where the much-awaited Olympism and Olympic values and ideals in the country, mini and school volleyball based on sports science, quantity to quality principle Volleyball index in the selection of talented players.
"The parameters of volleyball will be used in collaboration with various best government and non-government organizations and experts," said Jaideep.
Under this ambitious scheme, training of 30 boys in the age group of 12 to 16 years will be given by experienced international and nationally qualified trainers. All necessary arrangements, including accommodation, food, education, health, insurance, participation in competitions, will be made free of cost for the talented selected players.
MNVA's first serious initiative to disseminate the much awaited Mini Volleyball all across the country, beginning in Jharkhand, is at par with the principles of pedagogy and sports science and distinguishes it from other sports centres in the country, he added.
On MNVA's request, the sports companies have already started manufacturing Mini Volleyballs for children, and the associated schools of MNVA have also been presented with these Mini Volleyballs as a token of start-up measure to maximise volleyball in schools.
The most important need of the hour in Indian Sports ecosystem, Olympism & Olympic Values will also be taught and explored amongst the cadets of MNVA as a mandatory measure, said Jaideep.
For the larger issues of Volleyball promotion at elite professional level across the Nation from Jharkhand, MNVA will partner with the Nation's Prime Volleyball Champion team of Kolkata Thunderbolts and organisation of Prime Volleyball League (PVL) East is on the cards.
Pawan Kumarv Patodia, who pivoted the Champion team of Kolkata Thunderbolts was the Guest of honour of the event expressed his full proof support to MNVA with an expectation of PVL-East soon.
The World famous ITK Leipzig Sports University, Germany (Earlier known as Dhfk,GDR) which has pivoted Indian Sports Training methods since the inception of NIS Patiala in early 1960s, has in principally accepted a collaboration with MNVA through it's ITK India wing and Dr. Umakant Singh, the ITK Sports Ambassador of South East Asia including India has shown his keen interest in the process of MNVA's exemplary moulding.
Dilip Tirkey, President of Indian Pierre de Coubertin Association (IPCA) Co-Director, Food and Supplies, Government of Jharkhand, Pawan Kumar Patodia, President Kolkata Thundervolt, were present as the special and chief guest on the occasion.
Trilochan Kaur, Director, Mongia Steel Limited, IPCA Secretary-General Sarojini Lakra, Sports Authority of India (SAI) State Coordinator and Chief Instructor Bishwanath Singh, Sports Ambassador of South Asia of the world-renowned Leipzig Sports University, Germany Dr. Umakant Singh were also present there.
Representatives from East Singhbhum and an ace Athletic expert Gyan Singh, Palamu Brajesh Singh and Hazaribag Alok Kumar have also graced the event apart from media people along with very importantly the Gurus of the future champions from 50 various associated schools, units, clubs, academies and the like.