PM Modi will address United Nations General Assembly session on September 28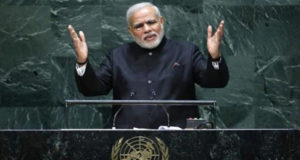 New York: Prime Minister Narendra Modi will address the UN General Assembly session on 28th September. This information was given in the preliminary list of Global Leaders' Addresses Program in the 74th Session of the United Nations. This list is released by the United Nations. PM Modi first addressed the UN General Assembly session in 2014.
During the visit of PM Modi to New York, there is also the possibility of attending many other high-level summits of the General Assembly session and doing several bilateral and multilateral negotiations. In the second term as Prime Minister after the glorious victory in the general election in May, he will address world leaders in the United Nations for the first time in September.
According to the first initial list of speakers for the General Debate of General Assembly session, PM Modi will address the conference on 28th September morning. The common debate starts on 24th September and will last till 30th September. US President Donald Trump will address the General Assembly on 24th September. He addressed the General Assembly in 2017 for the first time.
In the general debate, on the first day of the convention, America is the second speaker after Brazil. Before joining New York for the United Nations General Assembly session, Modi is also likely to visit Houston where he will address the Indian-American community on 22nd September. There will also be many other high level conferences of the 74th session of the General Assembly.
United Nations Secretary-General Antonio Guterres will host the Summit on 23rd September, 2019 to deal with climate change, in which the implementation of the Paris Climate Agreement will be discussed. The United Nations will also host the sustainable development target summit on 24th and 25th September. According to the list of speakers, the Government of Pakistan's address will address global leaders on 27th September. According to the preliminary list of speakers in the General Assembly, about 112 heads of state, about 48 government heads and more than 30 foreign ministers will reach New York to address the General Assembly.