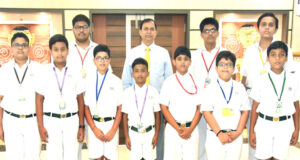 Bokaro:The recent results of Olympiads 2021-22 conducted by Science Olympiad Foundation (SOF) have opened up yet another stellar performance of Bokaro DIPSITES. Eleven students bagged the top International ranks in the International Mathematics Olympiad. Aditya Anand and Gaurav Kumar Singh of Class III, Shaurya of Class V and Kunal Anand of Class VII bagged International rank 1. Apoorv Singh Anand, Gaurav Kumar and Harshit Shaurya of Class III Bhoomi Priya of Class IV and Priyanshu Kumar of Class VIII secured International rank 2, Kumar Anmol and Harsh Bihany of Class XII secured International rank 3.
In International Commerce Olympiad Aditi Agrawal of Class XII secured Zonal rank 1 and in Cyber Olympiad Aditya Mishra of Class VIII secured International rank 2. The winners were felicitated with a certificate and medal each.
Earlier in the International Olympiad of Science, 12 students bagged gold medals securing International rank 1.
Principal A. S. Gangwar congratulated the students and wished them for their bright future.