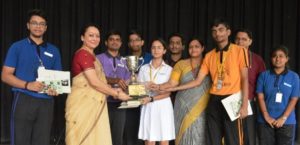 DPS, Bokaro students made their mark in the National Level Young Thinker's Conclave held in Mayo College Girl's School (MCGS), Ajmer. The event was held from 23 to 26 August this year.
Singapore International School Mumbai, Scindia School Gwalior, B. K. Birla Pune, Wynberg Allen School Mussoorie, Genesis Global School New Delhi, Mayur School Ajmer, The Indian School New Delhi, Welham Girl's Dehradun, Sherwood School Gwalior, St. Michael's Siliguri, Mayo Boy's Ajmer including 23 schools across the country participated in the culmination of the 25 year of the Young Thinker's Conclave held in MCGS, Ajmer, school authority informed.
This edition of conclave consisted of intellectually challenging activities where DPS, Bokaro team comprising Soham Mohanty and Stuti Taneja bagged the first position in Creative Writing Competition, he said.
"The team comprising Soham Mohanty, Pratyush Kumar Shandilya, Rashi Bharti and Stuti Taneja secured the third position in Theatre. The theme of the theatre was 'Mahabharata Paradox: A trapped individual in entrapped circumstances", added the authority.
Pratyush Kumar Shandilya was adjudged the best overall speaker in Hindi Debate while Ashish Harshvardhan was declared the best Interjector in Hindi Debate.
Dr. Hemlata S Mohan, Director and Principal of the school congratulated the winners and wished them success in the future as well.