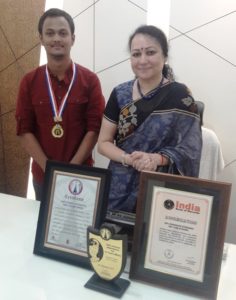 Sushant Sagar a former student of DPS, Bokaro has made a unique Record by attaining 100 percent attendance in all the classes beginning from Nursery till Class XII in DPS, Bokaro and got his name registered in "India Book of Records" for this unique feat. He has received an invitation for this unique achievement, school authority informed.
"Sushant will be felicitated in a mega event by Indian Record Holders at World stage scheduled to be held in New Delhi, on 12 November", he added.
The 'India Book of Records' is dedicated to identify excellence and to honour the most deserving ones while maintaining the highest level of transparency and executing it with the fairest processing.
Dr. Biswaroop Roy Chowdhury, Chief Editor, India Book of Records said, "Sushant will be felicitated by the Chief Editors of Record Books of 6 different countries. Special World Record Performance by our record holders will also be showcased live during the ceremony".
Dr. Hemlata S Mohan, Director and Principal of DPS, Bokaro expressing her happiness over the unique feat by the Dipsite said that DPS, Bokaro provides a unique and congenial platform for every student to enjoy school life.
"The school motivates the students in all spheres as a result of which such trendsetters emerge and flourish", she added.
Overjoyed, Sushant said this feat would not have been possible without the support and efforts of the school and particularly principal's support. He also said that the onus of his achievement also goes to his mother. Presently he is doing B. Tech (third year) from Asansol Engineering College.
Sushant's father Sanjay Kumar Srivastwa is Senior Operative at Bokaro Steel Plant while his mother Seema Srivastwa is a housewife residing at Chira Chas expressing their joys said, "it's a proud moment for us that my son is invited for felicitation at World stage".
"It's the effort of our entire family members; we work hard to manage the situations including happiness as well as grief, till 14 years so that my son did not miss his class", said Seema.
"Our family never attended any functions any vacations jointly", said Sanjay, Sushant's father.