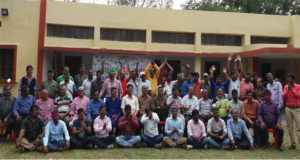 Bokaro: Bokaro Press Club organised a Holi Milan Programme at NHAI Campus in Bokaro on Sunday. Over 150 media fraternity (journalists) working in different streams of the media, converged enthusiastically on the venue and exchanged greetings; played 'Holi' as 'Tilak Holi' on a water crusade.
The programme started with Holi songs which were followed by dance and number of cultural programmes presented by club members.
The dance performance by Ajay Ask and Vikash Maharaj was appreciated by everyone while songs sing by Arun Pathak enthralled all.
The relevance of Holi for society and people was highlighted by the President of the club Krishna Choudhary and Ashok Vishwakarma, Convenor. Choudhary said the festival could bring change in the society if we take a pledge to remove social evils on this day.
Speaking on the occasion Vishwakarma said every Indian festival gives the message of harmony and love. All members of the club took a pledge to eradicate social malpractices on this eve.
Among the noted journalists present at the venue included Akshay Kumar, Ajay Ask, Vijay Jha, Sanjeev Singh, Sanjeev Ojha, Arvind Sharma, Mriyatunjay Mishra, Manish Kumar, Pankaj Singh, Vikash Maharaj, Jai Sinha, Vijay Kumar, Ajay Singh, Vinod Sinha, Ram Murti, Deo Kant Tiwari, Anil Chandra, Sashi Kant, Surender, Satya Paul, Deepak Kumar, Binay Tiwari, Mahender, Manoj, Brijbhushan, Amrender Kumar, Sanjay Shan, Sambhu, Rajesh Raj, Chandan Verma, Kautuav Kumar, Dinesh,  RajKumar were also present on the occasion.
Press Club Vice President Vinod Ojha, Arun Pathak, Ashis, Hemant Vishwakarma, Piyus Rai, Surender, Deepak Jha, Sujit, Ajit among others coordinated the event successfully.