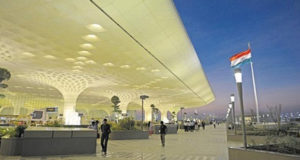 Mumbai: The entry of drunk employees has been banned at Mumbai Airport. All employees will now have to undergo a 'Breathanalyzer' test before entering at Mumbai Airport. The License will be suspended for three months if convicted of alcohol consumption for the first time or denied a test. There will be a three-month ban on employees who do not have licenses, even for doing duty at the airport.
A second mistake will be stayed for a period of one year. The license will be suspended for three years or will be removed from duty if confirmed to be on duty after drinking alcohol in the BA test for the third time. In order to reduce accidents at the airport, the Directorate General of Civil Aviation ordered all the employees working at the airport to be tested.
Following the order of the Directorate General, a 'breath analyzer' test of all employees has been arranged at Mumbai Airport. It is worth noting that till now, only the 'Breathalyzer' test was conducted by pilots and crew members at all airports in the country.