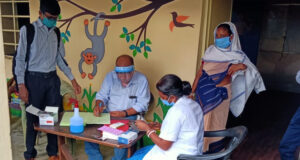 Bokaro: In a bid to bring awareness among mass Vedanta-Electrosteel (ESL) organized a webinar on "Sustainable practices in AIDS Awareness" in association with Citizens Foundation (PIA) and Confederation of Indian Industry (CII), Jharkhand.
MD National Health Mission, Ravi Shankar Shukla, CEO ESL Steel Limited, Pankaj Malhan, Civil Surgeon (Bokaro) Dr. Ashok Kumar Pathak, and other dignitaries were present during the webinar.
Around 30 lactating mothers and adolescents associated with Nandghar, 35 members from Babugram village and 22 PRI members, opinion leaders from nearby villages were also present there, informed ESL PR Official.
HIV health check-up camp was also organised in partnership with District Health Department at two locations – Parking Area near Chimney at Vedanta Four Lane and at Garga Gate near SBI Bank. As part of the drive, a total of 99 HIV Tests were done and 96 packets of contraceptives were distributed among truckers, drivers and workers. The CSR teams also conducted one to one counselling sessions, played a small video on the subject and used leaflets, posters and banners as a medium of communication.
Speaking on the occasion, Pankaj Malhan, CEO, ESL Steel Limited said, as a responsible steel brand, we continue our commitment towards improving the quality of life by providing adequate healthcare facilities and educating our community to prevent the spread of dreadful diseases such as HIV AIDS.
"With our different CSR initiates, we strive to create a healthy environment and uplift our community at all fronts for a progressive society. I would like to thank Citizens Foundation and CII for their support in making the event a success," he added.