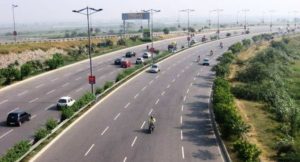 A high-speed access controlled expressway will soon be a reality in Jharkhand. On the line of Lucknow-Agra expressway, commuters will get the facility of the 'Golden Triangle' expressway (250 kms) connecting Ranchi-Dhanbad-Jamshedpur by the year 2020, informed a senior district administration official.
The plan of acquisition of land is ready, while its Detail Project Report (DPR) is being prepared by the Government, he added.
'Golden Triangle' would completely be an independent six-lane road; it will neither run parallel to any National Highway nor will cross any other roads. It will cross NH-23 (Bokaro-Dhanbad) road through a flyover, he said.
We are yet to get the land requisition request by the State Road Construction department. As soon as we get the request, the acquisition of land will be stared, said Jugnu Minz, Additional Collector Bokaro.
At least 1200 acres of lands will be acquired for this project only in Bokaro district. On the direction of officials entire land has been identified in Paterwar, Jaridih and Chas", added Minz.
Under the project road for Jamshedpur is proposed from Bokaro, said an official adding, "There would be only one entry point in the middle of this expressway which is proposed at Jaridih in Bokaro".
The Government would spend Rs 3400 crore on this proposed expressway, he said.
Land would be acquired in Tandbalidih, Tandmohanpur, Karhariya, Jaridih, Dharampura, Katka, Jhopro, Gaichhanda, Balrampur, Chilgadda, Garke, Gopalpur, Nawadih, Tangtona, Bagiyari, Jamkudar, Bagda, Pakaribandh, Astabera, Khudibera, Pirgul, Murhulsudi including others for Bokaro- Jamshedpur Expressway.
While for Ranchi-Dhanbad expressway, land would be acquired in Chargi, Budhangora, Lopo, Sadmakhurd, Sadmakala, Takaha, Luckiya, Ambadih, Darid, Dantu, Kamlapur, Banchas, Gajhandi, Baradih, Araldih, Katka, Tiro, Gaichhanda, Jhopro, Bansimili, Dharampura, Sizua, Satanpur, Ghatiyali, Amdiha, Narayanpur, Siyardha, Kamaldih, Kandra, Khamarbendi, Jamgoria, Nischitpur, Dumarjor, Demudih including others under Paterwar block, said the official.
After completion of this expressway, the distance from Ranchi to Bokaro will be reduced to 87 kms form 120 kms, while the distance from Jamshedpur-Bokaro will be reduced to 102 kms form 150 kms.