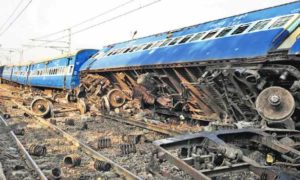 Three passengers died while seven others injured after Patna-Vasco Da Gama (Goa) train derailed near Manikpur railway station in Chitrakoot district of Bundelkhand in the wee hours of Friday. Thirteen coaches of Vasco Da Gama-Patna Express were derailed near Manikpur in Uttar Pradesh at 4:18am, a railway official said.
The Railway Minister has announced a compensation of Rs 5 lakh each to the family of the deceased, Rs 1 lakh for those with grievous injuries and Rs 50,000 for the injured. UP CM Yogi Adityanath also announced  Rs 2 lakh for the next of kin of the deceased passengers.
The accident took place at 4.22 am on platform No. 2 of the railway station where 13 coaches — S-3 to S-11, two general and three others — of Vasco Da Gama Express derailed, sources said.
Two of the three deceased had been identified as Ram Swarup Patel and son Dipak Patel of Betia in West Champaran district of Bihar. The third passenger who succumbed to his injuries was yet to be identified, said SN Sawat ADG-Allahabad Zone.
The UP Government has asked the Anti-Terrorism Squad (ATS) to probe the accident, the ADG said.