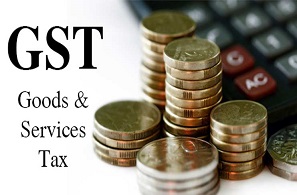 The Goods and Services Tax (GST) which has scheduled to be implemented from 1 July, the government finalised tax slabs for various goods and services.
According to the experts below is a listing of the goods and services will become cheaper or costlier after the GST comes in to force:-
Goods that will be cheaper
Corn flakes, Biscuits, Medicine, Ice cream, Packaged tea and coffee, Watches, Sweets, Cheese, Masala, Soaps, Hair oils, Two-wheelers, Toothpaste etc.
Services that will be cheaper
Restaurants, Dhabas, AC train travel, Air travel, Radio taxi, Movies and Entertainment services including others
Goods that will be costlier 
Cigarettes, Mobile phones, Butter, Packaged chicken, Bhujia, Edible oil, Air- coolers and conditioners,  Refrigerators, Washing machines, Coal, Steel, Computers – Laptops, Desktops, Monitors and printers,
Electronic Goods, Paint
Services that will be costlier
Online shopping, Mobile phone bills, Insurance premiums and other fees, Banking charges, Internet wifi
DTH services, School fees, Courier services includign others.
The taxes are set on a four slab rate – 5%, 12%, 18% and 28%.
Exempted from GST
Goods

Services

Any sort of unprocessed and local meat

Pasteurized form of milk, Separated Milk, Fresh Milk and Cream

Buttermilk, Unpackaged and Unbranded Paneer and Honey

Fresh fruits and vegetables which have not been preserved

Unroasted coffee beans unprocessed tea leaves

Unprocessed and Unbranded Fresh turmeric, Wheat, Rye, Barley, Oats, Maize, Rice and Millet.

Non-aerated unprocessed Water

Common Salt, Kala Namak and Rock Salt

Medical Products and Medicines

Books (printed which includes Braille books), Newspapers, Journals, Maps, Atlas, Globes

Tariff of Hotels priced under Rs 1,000.

Metro Fare, Local Train Tickets

Fare of Non AC Train

Education and activities related to it and Healthcare Services
5% Slab Rate
Goods

Services

Packaged form of Honey, Paneer, Yogurt, Fresh Cream etc.

Herbs, Dry Fruits, Frozen Fruits and Veggies or used in preservative solutions,

Processed, roasted and packaged Coffee, packaged and processed Tea

Processed and packaged Spices like Cinnamon Cloves, Nutmeg, Mace, Cardamom, Thyme, Bay leaves etc.

Mixture for making Bread, Pastry and other Bakery.

Carriages for disabled persons (both Motorized Carriages and Mechanically Propelled Carriages)

Broomsticks

Fare of AC Train Travel

Fair of Economy Air Travel

Cab Fare (includes Ola, Uber)
12% Slab Rate
Goods

Services

Frozen and Packed Meat Items

Butter and Cheese

Namkeens, Bhujia and other such edible items

Washing Detergents.

Books for Entertainment and Education (Printed on illustrated paper)

Mathematical and Geometry boxes, Colors Boxes, Pencil Sharpeners

Utensils, Sewing Needles, Kerosene and LPG Stoves

Household articles made up of Iron, Steel, Copper and Aluminum

Blades and Paper Knives

Telephones (both Cellular Network and Wireless Networks)

Sports Goods, Toys, Combs, Hair Pins, Pens, Pencils, Crayons, Tampons, Sanitary Napkins, Clinical Diapers.

Tariff of Non AC hotels

Fare of Business Class Air Travel
18% Slab Rate
Goods

Services

Refined Sugar (which includes Colors and Flavours)

Artificial honey

Cooked or Uncooked Pasta, Corn flakes, Bulgar Wheat

Waffles and Wafers

Soups, Ice Cream, Food Mixes (Instant Food Mixtures and same sort of edibles)

Sharbat, Soy Milk and Soy Drinks, Fruit Pulp or Fruit Juice based Concentrates

Tooth Powder, Agarbatti (Incense Sticks)

Products made up of Plastic (like tableware, kitchenware, other household articles)

Electronic Toys

Facial Tissues, or any kind of paper paper related products

Helmets and Hats (manufactured from Textile Fabric)

Spectacles and it's lenses

Tariff of Air Conditioned Hotels

Liquor serving Hotels and Bars

Tariff of Hotels ranging in between Rs 2,500 to Rs 5,000

Services relating to Telecom and Finance
28% Slab Rate
Goods

Services

Molasses, Chewing gum, Bubble gum, White chocolate (which does not contain cocoa)

Any sort of Chocolate and preparations which contain cocoa

Churn for pan, Custard Powder, Pan Masala

Perfumes, Beauty Products (includes sunscreen and sun tan products)

Bathing soaps

Plywood, Veneered panels and similar kind of Laminated Wood

Mirrors or products with mirror or glass, and wood related wall coverings

Stoves (expect kerosene and LPG stoves)

Air Heaters and Hot Air Distributors

Primary cells and Batteries

Vacuum cleaners, Electric Motor, Video Games Consoles

Equipment for Physical Exercise, Gymnastics and Athletics

Five Star Hotels which has a Tariff ranging above Rs 5,000

Race Club Betting

Consuming Films
Majority of the products come under the first three slabs i.e 81% and the rest come under the last slab (28%).