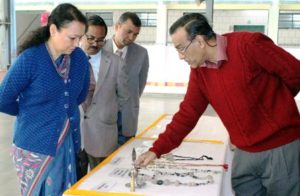 With the motto to aware the students with the rich heritage of India's history, a unique exhibition concluded at DPS, Bokaro on Saturday.
Thousand years old arrow heads, tools and coins, Five hundred years old ancient pottery, Millions of years old plant fossil, Gondwana era Goddess five hundred years old, Gandhiji's three monkeys coin display, Tribal necklaces and seals from the different regions of India, Antique pens, heart shaped lock, vintage door key, 1952 gevarat camera, 1940 kerosene cycle lamp, Five-hundred- year-old pocket watches and table watches used in British time, Old currency notes of 1820, 1905, Barter system coins of beads, bones, World smallest coins 'Mashak', coins different princely states were put up on display during the exhibition for students.
Rohit Khanna of Jabalpur, a person with keen interest in collecting ancient and historical things, had put up the exhibition.
The exhibition was inaugurated by Dr. Hemlata S. Mohan, Director and Principal of Delhi Public School Bokaro on Friday.