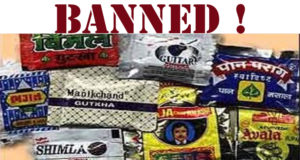 JNS: State health department on Wednesday banned the sale of tobacco products across State on the assumption that their use would lead to a tendency to spit causing the spread of the virus.
An official of the department said that the decision has been taken in view of fear of the spread of the virus due to spitting. Chewing and use of tobacco can lead to serious diseases like COVID-19, encephalitis, tuberculosis etc. In line with the Union home ministry directive dated 15 April 2020 for COVID-19 management making spitting in public places a punishable offence and as per the power enshrined under Disaster Management Act 2005 article 10 (2) sub-clause (1), the government has decided to ban the sale and use of tobacco products in public places till further order.
The directive issued on Wednesday to the deputy commissioners and police heads in the 24 districts cites that the use of tobacco is a global health concern and the spitting after use of tobacco products is a public health hazards in view of COVID-19 pandemic and sale of tobacco products like cigarette, bidis, pan masala, areca nuts, khaini, jarda etc and directs for strict compliance of the order with immediate effect.