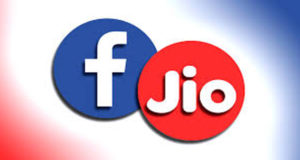 JNS: Facebook announced for an investment of Rs 43,574 crore (USD 5.7 billion) to buy a 10 per cent stake in Jio in a bid to expand.
In a statement, Facebook announced for a USD 5.7 billion, or Rs 43,574 crore, investment in Jio Platforms Ltd, part of Reliance Industries Ltd.
"With the investment, Facebook becomes the largest minority shareholder," it said.
Reliance in a separate statement said the investment by Facebook values Jio Platforms at Rs 4.62 lakh crore pre-money enterprise value (USD 65.95 billion, assuming a conversion rate of Rs 70 to a US dollar).
"Facebook's investment will translate into a 9.99 per cent equity stake in Jio Platforms on a fully diluted basis," it said.
Facebook said the investment "underscores our commitment to India and our excitement for the dramatic transformation that Jio has spurred in the country".
"In less than four years, Jio has brought more than 388 million people online, fueling the creation of innovative new enterprises and connecting people in new ways. We are committed to connecting more people in India together with Jio," it added.