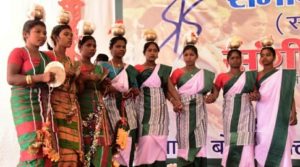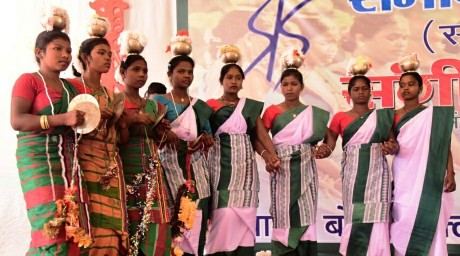 With the motto to preserve the tribal art and culture of Jharkhand a two-day mega event MANDAR began at Bokaro Club, Cinema Arena in Bokaro on Thursday night.
The programme is organised by Samaj Hit Kalyan Samiti (SKS) Bokaro in collaboration with Sangeet Natak Akademi (SNA), Ministry of Culture, New Delhi. Amar Bauri, Minister for Revenue, Land Reforms, Art, Culture, Sports and Youth Affairs, Jharkhand applauded the efforts of SKS for conducting such a programme and said that such programme will definitely go a long way in preserving the tribal art and culture of Jharkhand.
Jharkhand is a state of India famous for its tribal cultural diversity and ethnic values. It is essential to extend promotion for preserving tribal culture. SKS is really doing a good job by organising such an event with this cause, he said.
Member SNA, General Council, Dr. Sanjay Kumar Choudhary said that the tribals residing in the forest and hilly terrain of the state reflect high accomplishment in the fields of culture, especially in dance, art and crafts with all its variety and uniqueness. But the modern civilization, coupled with industrialization and urbanization, has cast its influence in such way that some traditional cultural art forms are either on the verge of extinction or under the spell of sea-change improvisation.
Now, it is crying need of the hour that all these artistic expressions and creations of tribal people, be it material or non-material culture, need immediate attention, preservation, documentation and encouragement by the concerned people before they are completely lost in oblivion.
R.P. Singh, President, SKS in his address we are on move to preserve tribal art and culture in the state. We also believe that an awareness programme among the communities may be effective to encourage the people to learn their culture and to practice them, he added.
Earlier the programme was inaugurated by lighting of the lamp amidst the traditional Mandar beat of the Jharkhand Tribes and presentation of the bouquets and mementos to guests. Various tribal dance performances were showcased including Ho Nritya by Aasas Sanskritik Dal, Sohrai Nritya by Sanskritik Dal Peink Manpur, Baha Nritya by Sanskritik Dal Siyari Gomia and Munda Nritya by Oroan Nritya, Bokaro from different parts of Jharkhand, during the event.
The programme was attended by teachers and students from various schools including, DAV, Sector VI, Bokaro Public School, DPS, Bokaro, MGM, Bokaro, Crescent Public School, Deepansh Shiksha Kendra run under the aegis of DPS, Bokaro, Koshish.