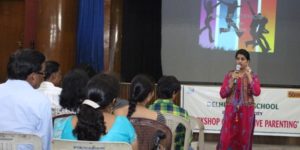 Three days workshop on effective parenting was organised at DPS Bokaro for the parents of students of 6 to 8 classes.
The workshop addressed the changing scenario in the education system and the role of parents as a tutor, guardian and guide when the children are exposed to various
influences increasing their curiosity and eagerness to discover and learn more, said the school authority.
The interactive workshop aimed at equipping the parents who will train their children along with the school and teachers, for a complete development, he said. The resource persons of the workshop were Soft skill trainer, counsellor, life coach and international master neuro-linguistic practitioner Naaz Khan and Financial Planner and corporate trainer J.K. Sinha.
They guided the parents in an interesting way on qualities of good parenting, handling the changes in adolescence and understanding the viewpoints of the children they also answered the parents' queries. Addressing the workshop the Director and Principal of the school Dr. Hemlata S. Mohan said. "in the wake of technological invasions and the availability of information at the click of a button, parents need to understand the changes and be
aware of the changing environment where Education system has shown a paradigm shift with regards to the challenges in our time. Children should be able to face these challenges with confidence and parents should always adopt a positive approach so that the children develop positivity in them.
She appealed to the parents to create a conducive atmosphere where children are encouraged to strive ahead in their field of interest. The children should develop the qualities of humanity, empathy and become a better citizen of the world for tomorrow.