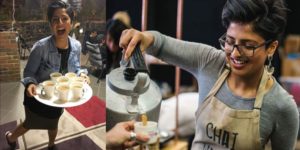 26-year-old Uppma Virdi is an Indian-Australian lawyer who started her own company called 'Chai Walli' to serve quality Indian tea to those living in Australia. In two years, the brand has gained a huge following, and Uppma was selected Businesswoman of the Year at the 2016 Indian Australian Business and Community Awards (IABCA) organised in Sydney recently.
Uppma started 'Chai Walli' while doing her day job at a law firm. She recalls how her grandfather, an Ayurvedic doctor, taught her the art of making good herbal tea. Slowly, Uppma's tea gained popularity in her social circles. She told.
"Wherever I go I make tea… My parents' number one request is 'Uppma, make some tea.' When my brother got married, I think I would have made a thousand cups of tea for all the guests. Even when I went overseas to Austria on a scholarship, I used to make tea for everyone. It was a way of bringing people together."
Today, Uppma's online tea store, where she sells a variety of tea and related products such as candles, pots, kettles, strainers, and even chocolates made of tea, has become very popular. She has also ventured into conducting workshops where she teaches tea enthusiasts how to make the perfect cup of aromatic chai.
The Chandigarh girl was also an invitee at the Melbourne Tea Festival organised earlier. At the event, she had spoken to the media about her desire to promote the unique preparations of Indian tea throughout the world, reports Amar Ujala.
CT – INET : https://yourstory.com/2016/11/uppma-virdi
Read More by Divya Nair / Rediff.com :
http://www.rediff.com/getahead/report/the-chaiwalli-whos-taking-the-internet-by-storm/20170117.htm