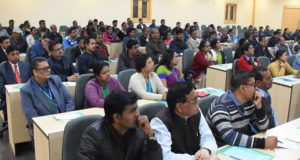 Bokaro: Aiming to provide educators specific strategies related to the 'Conduct of Examinations and Error-free Evaluation Process', a workshop on 'Capacity Building Programme on Examination and Spot Evaluation' was conducted  at DPS Bokaro on Wednesday,
The dynamic interactive session was organised by the Central Board of Secondary Education (CBSE) where Principals, Head examiners Assistant Head Examiners and Evaluators from the district explored numerous ideas to improve strategies and give their best at all times for the success of their students.
Director and Principal, DPS Bokaro Dr. Hemlata S Mohan inaugurated the capacity building programme in Mahatma Gandhi Hall of DPS Bokaro. While inaugurating the programme she remarked that this programme is important considering the upcoming board examination 2019. She stated that the evaluators must think of the children's' future and hence seriously take up the evaluation process as per the guidelines of CBSE.
Principal, Chinmaya Vidayalaya, Dr. Ashok Singh and Principal, Pentecostal Assembly School Rita Prasad, resources persons initiated the session, deliberating on strong procedures for conducting examinations and introduced the new initiatives of the board.
He said quality evaluation is very important, so schools should cooperate and spare their best teachers for it.
Dr. Ashok remarked that face-to-face interaction is must, so this programme was organized to disseminate comprehensive and inspiring tips for promoting academic engagement in exam practices.