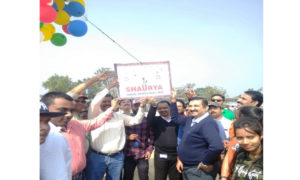 Bokaro: A five-day annual sports event 'Shaurya-2020' organized by Vedanta-Electrosteel Steels Limited was kicked-off at Friendship Sports venue at Hundru village under Chandankiyari Block of Bokaro district on Tuesday.
CEO SLVP Ready inaugurated the event which is scheduled to be concluded on 22 February, informed Vivek Anand PRO of Vedanta-Electrosteel. "Shaurya-2020 includes several sports events includes 100-meter race, 200-meter race, 400-meter race, relay race, marathon, walkathon, badminton, table tennis, high jump, long jump, shot put, carrom, javelin, tug of war and kabaddi," added Vivek.
The inaugural ceremony was started with the national anthem and later colourful balloons were released by the guests.
Speaking on the occasion Reddy described the event organized by the company as commendable. He said, by keeping ourselves fit, we can only live happily.
Recently we have organsied T10 cricket tournament in which the employees of the company participated actively. Now I would like to urge the participants of 'Shaurya-2020' to participate with the same enthusiasm to win.
Jalaj Malpani, Chief Financial Officer of the company said that the game teaches us many things. Every person has his own skill. Therefore, the skill which is there must be attended. "Sports develop team spirit which also teaches us management skills," added Malpani.
Beside others, Chief security officers of the company Sumit Burman, Kundan Karna, Sandeep Acharya, Laxman Rao and a large number of officials and employees of the company were present on the occasion.