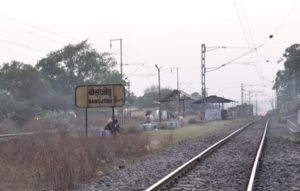 Movement on Dhanbad-Chandrapura Railway line will be completely closed from 15 June due to underground inferno and land subsidence in Jharia and Raniganj Coal Field area.
Considering the Director General of Mines Safety's (DGMS) report Ministry of Railway today issued a directive to the concerned railway officials stating that "Board has decided to stop operation of passenger and goods trains on Dhanbad –Chandrapura Railway line with effect from 15 June 2017", said a Public Relation official of Dhanbad Railway.
On 7 March a high-level committee compromising of PK Sarkar Director General of DGMS, S Rai and HK Bakshi of DGMS, D Gangopadhyay Director Technical of Bharat Cocking Coal Limited, SN Saha of Central Institute of Mining and Fuel Research (CIMFR), KC Mishra GM BCCL Govindpur area, SK Dutta GM Katras area, JP Gupta GM Sijua area including many safety and survey officials inspected the area at Katras, Sijua and Loyabad and later they submitted their report.
In the directive to General Manager EC Railway it is stated that, " Based on the inspection by DGMS and study it is clear that area falling under seven mines including Busserya, Sendra Bansjora, Katras, South Govindpur and Teturia covering a stretch of  14 kms the stability of the ground beneath the Dhanbad-Chandrapura Railway track cannot be guaranteed. Therefore, in the interest of the safety of human lives, the movement of trains on the aforesaid lines is to be stopped", informed the official.
The board asked the Zonal Railway officials to issue public notice, advertisements in this concern, arrange diversion and necessary action accordingly.
The Executive Director of Railway Board Anil Kumar Lahoti asked the Zonal Railway to take immediate necessary action to submit a proposal for sanction of alternative lines to cater the traffic duly considering the RITES report of 2015 and any other alternative proposal, said the official.
Notably, underground inferno raging since over 90 years in the various localities of Dhanbad district not only fears for the local residents but also poses a stern threat to the railway track (Chandrapur-Dhanbad), four lanes Grand Trunk (GT) Road and National Highways.
The underground inferno spreading towards the railway track near South Govindpur siding area; now the fire is about few feet far from the railway track, slowly spreading towards the track, said an official.