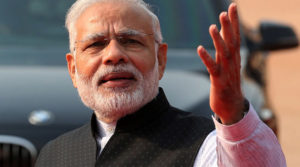 Prime Minister Narendra Modi on Saturday alleged the corrupt he had "robbed" with note-ban have ganged up to bring him down and targeted the SP-Congress alliance, saying the two parties which abused each other till recently are now locked in an embrace to save themselves.
Modi asked the people in Uttar Pradesh to "rid the state of SCAM – S for Samajwadi (party), C for Congress, A for Akhilesh (Yadav) and M for Mayawati", saying they have to choose between development agenda of BJP and those who give shelter to criminals, indulge in vote bank politics and encourage land and mine mafias.
In his over-an-hour-long address, he spoke at length about corruption, law and order and nepotism allegedly prevailing in the state as he sought people's vote for BJP to change the state's fate.
"It is UP which made me the Prime Minister," Modi said, adding that he wanted to repay its debt and that he can do it only with a government that joins hands with the Centre to develop the state unlike the current dispensation which is a "hindrance" in its progress.
Attacking Congress and Samajwadi Party, he said Congress ran a campaign against the Samajwadi Party government and wondered as to what happened that both have now joined hands. "What happened that overnight they are embracing each.
Those who could not save themselves cannot save UP," he said. Wooing farmers, he reiterated the party's promise of waiving loans of small and marginal farmers and paying the dues of sugarcane growers within 14 days of coming to power. Playing the pro-poor and pro-farmers card, a plank BJP has assiduously tried to claim for some time, Modi said the recent budget was all about them besides the middle class.
Noting that the rebellion against the British rule in 1857 had started from Meerut, Modi said he has chosen this place to start the war against poverty, corrupt forces and land grabbers. The Prime Minister again attacked the opposition parties over demonetisation and surgical strikes to strike a chord with the audience as he said he was determined to cleanse the system at the top and was not interested in small fights.
"Those who filled rooms with currency notes collected by selling party tickets are very anguished as I forced them to deposit their money in banks with an announcement at 8 pm on November 8….
"I knew they will all gang up against me. They will kick up a storm because Modi has robbed them and they will bring him down. Do you think that corruption should be ended and black money finished off? I have been doing this and will not rest nor will let these robbers rest. No matter how many of them
gang up to oppose me, my fight will not stop. Modi will not stop," he said.
Targeting Congress, he said a minister in the party-run Karnataka government has been found in possession of Rs 150 crore and but it has not taken any action against him. Targeting Chief Minister Akhilesh Yadav, he said first his concern was all about family, then about himself and now it is about the chair.
Those accused of running mine mafia, patronising criminals, rapists and land-grabbers have been given tickets in SP, he alleged. Uttar Pradesh has potential to be a leading state in the country but has remained mired in poverty and unemployment due to its governments, Modi said.