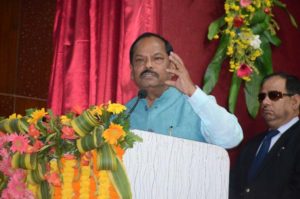 Aiming to make youths technically skilled the State Government is on the move. As many as 12 new 'Centres of Excellence' (CoE) would come up before October 2 this year in Jharkhand, said Chief Minister Raghubar Das in Sindri on Tuesday while inaugurating and laying the foundation of different projects worth Rs 805 crore across the State and Rs 106 crore at BIT, Sindri.
"On the line of BIT Sindri, CoEs will come up in 12 districts including Bokaro, East Singhbhum, West Sighbhum, Garwah, Chaibasha and Latehar shortly", he added.
The CM inaugurated 8 polytechnic colleges at Dumka, Madhupur, Garwah, Chandil, Jagarnathpur, Baharagora, Simdega and Nirsa along with two labs at BIT Sindri online. He also inaugurated 300 beds hostel at BIT Sindri, a Guest House, Community Centre, placement centre and laid the foundation stone of a 300-bedded women's hostel at Sindri.
"We have targeted for the skill development of 14,000 youths every year. MoUs has been done with Cisco, Oracle, HP, Tata Steel for the purpose. Training of 108 trades will be started shortly by the experts from Singapore," said the CM.
"The objective of this skill development programme is to enable a large number of youths to take up industry-relevant skill training that will help them in securing a better livelihood," he added.
Speaking on this occasion Das said that Siemens will open 15 more CoEs across the State which will come up with an estimated cost of Rs  414 crore and the State Government will contribute 66 cores for this work.
Expressing deep concern over the lack of teachers, CM said, teachers would be appointed on contract basis in the technical institutions very soon.
Das urged youths to come forward for building the nation. Youth are the strength of the nation and for the development of Jharkhand there could not be a much better asset than the youth power, he said, adding, "to add strength to the youth power the skill development department has been made more active as times are changing and there was a need to move ahead with the changing times or else one would lag behind".
The Chief Minister said that Jharkhand is a rich state, was full of opportunities but unfortunately, grappling under poverty and unemployment. "We are working hard with the aim to remove poverty and unemployment from the state", he added.
State Human Resource Development Minister Neera Yadav, Member of Legislative Assembly Phulchand Mandal, Additional Chief Secretary Amit Khare, Higher and Technical Education Department Secretary Ajay Kumar Singh, Suman Bose (GM Simens), DK Singh Director BIT Sindri were present on the occasion.